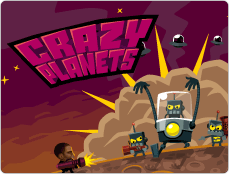 Crazy Planets is a Facebook game, turn-based gaming application established by Playfish. This game first appeared in Facebook as a beta in the years of the second quarter of 2008. This came can be played through Facebook. In addition, Crazy Planets has their own fan page and their blogspot.
Crazy Planets is all about vanquishing robots, upgrading the player's arsenal, and being the most formidable of intergalactic soldiers! This game requires the player to increase their "space soldier ranks" and weapon levels. Through eight weapons that are introduced in Crazy Planets, the player can upgrade them, allowing them to use their functions to eradicate the infamous Robot Army. Higher levels mean more missions, and more missions grant the player more awards.
Any player who plays Crazy Planets will undergo a tutorial set up by the Space Admiral. He teaches the entire game play. At the same time, the new player is introduced with two basic weapons, a planet to customize (which includes the instant metal device and the mission ship.), and their first mission in the first galaxy.
When the player has friends playing this game, he/she can recruit them in the player's team, issue a trade with minerals (or send messages), and visit each other's planets to gift them and gain metals.
Medals can be obtained only through missions, by performing a certain tasks like, using grenades in the entire battle, never get hit by a robot, stay still, and more. These medals are won in galaxies with various planets and meteors.